According to the Project Management Institute's (PMI) Project Management Salary Survey, the median salary for Project Management Professional (PMP) certification holders in the U.S. is 23% higher than those without PMP certification.
That's an $11,500 raise for someone earning $50,000 per year!
Have you thought about taking the PMP exam? Want to get your project management certification? What's holding you back? Is it time? Is it money? Don't know where to start?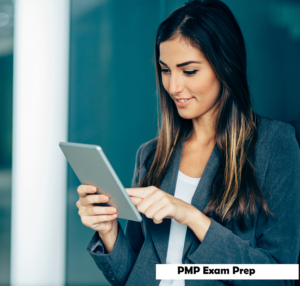 Our referral partner, the PMP Exam Prep Seminar gives you everything you need to pass the PMP Exam.
Earn the 35 contact hours necessary to register for the exam.
Learn all the concepts necessary to pass the exam on the first try, including the ten knowledge areas, five process groups, plus project scheduling, critical path method, earned value formulas, and much, much more.
At ProjectEngineer, we have done the hard work for you and searched the internet for the highest quality, fastest, and lowest cost PMP training you can find, and we are excited to provide a referral to this PMI Registered Education Provider.
Most people take week-long project management training sessions or bootcamps costing $1,000 – $3,000 USD.  But it really isn't necessary.  In a few weeks and with just the coffee money spent throughout the duration of the course, you can be ready to write the PMP exam.
We're project managers too, so we know that you're busy and need training cheap and fast, so you can get back to the hard work of growing your career.
Requirements for PMP Certification
According to PMI's requirements for certification as a Project Management Professional (PMP), you must pre-qualify in one of the following two categories:
4-year degree, 3 years of experience leading projects, AND 35 hours project management education/training
High school diploma, associate's degree or the global equivalent, 5 years of experience leading projects, AND 35 hours project management education/training
This course will fulfill the requirements for the 35 contact hours of training, allowing you to register for the exam.
The PMP designation is awarded to qualified individuals by the PMI (Project Management Institute). In order to become a certified project management professional (PMP), you need to jump through a few hoops, but it's fairly straight forward. If you already have a degree, you simply have to get some experience and take some project management education. If you don't have a degree, don't worry! You just need a few more hours of experience, but the project management education credits are still the same. Start by taking the PMP Exam Prep course with a PMI registered education provider and you can be prepared to take your exam right away.
Our partners offer online options for PMP Exam prep. If you follow one of our links, you'll get in on the best deals they offer. There is a lot of up side to getting your PMP certification immediately! Did you know that project managers can work in any industry and are among the top paid of those who have professional certifications? Increase your prospects, your resume and your income right away.
The 35 contact hours of project management training are earned by completing all of the course videos AND all the interactive video sessions in the course. The Learning Management System tracks your completion of the course; if you complete all the videos and interactive sessions, you can claim these educational hours for your PMP exam application!
What will you get from a PMP Exam Prep course?
You'll get all the resources you need to pass the PMI PMP certification exam
You will earn 35 exam contact hours from a PMI Registered Education Provider
You will be able to discuss the PMBOK Guide 6th edition with confidence
Explain the project management processes
Discuss the project management knowledge areas
Demonstrate the formulas, charts, and theories of project management
Calculate float for complex project network diagrams
Apply the formulas for earned value management
Compare and contrast processes, knowledge areas, theories, and project management best practices
Bonus learning games to reinforce learning!
This is our recommended PMP Exam Prep Course
Now that you've prepped, what's next?
Find more information about project management, PMI and PMBOK
Look up your closest PMI exam provider
Study, study, study: review all material
Check out our resources: if you're having trouble keeping the process groups and knowledge areas straight, dig into the ProjectEngineer.net PMBOK resource page 
Start getting experience: volunteer organizations, libraries, local small businesses all can use free project management help (sometimes you can find something that pays)
Document your experience: don't just do it, document what you're doing and how you're using the process groups and knowledge areas