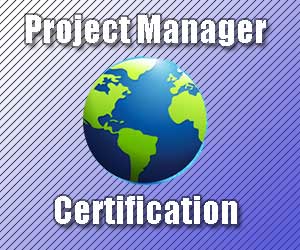 Welcome to our Project Manager Certification pages!  Here we will give you everything you need to know in a clear concise format.  Since we couldn't find this type of summary anywhere on the internet, we decided to create it ourselves.
Project Manager
The following certifications are intended for project managers who wish to demonstrate their competence in project management.  The requirements vary over a wide spectrum so be sure to read through each one to decide which is right for you.
Associate Project Manager
These entry-level designations are aimed at people who wish to move up into project management, or are not full time project managers and wish to demonstrate project management expertise.  They do not require experience nor university degrees.  They generally involve studying a textbook and writing an exam (although there are slight variations) and do not require any continuing professional development credits to maintain the certification.
CAPM
The Certified Associate in Project Management, Issued by the Project Management Institute (PMI), has about 27,000 people certified worldwide.  Although it has the smallest number of certifications in this category, the PMI also administers the Project Management Professional (PMP) designation which is arguably considered the standard within the industry.  Thus, the CAPM is simply the "baby PMP."  It is based on the PMI's Project Management Body of Knowledge.
IPMA-D
The International Project Management Associate, Level D, certification is issued by the International Project Management Association (also IPMA) and has 175,000 certifications worldwide.  It is the lowest of four certification levels, and the only one which does not require an on site visit by IPMA-certified assessors.  The exam is based on the IPMA Competence Baseline (ICB), which is the official textbook for all IPMA certification levels.
PRINCE2 Foundation
This is the entry level PRINCE2 certification, administered by Axelos in the UK.  It is based on the PRINCE2 manual "Managing Successful Projects with PRINCE2."  The number of certified individuals is not known.  Unlike the other two, there are no letters after your name when achieving PRINCE2 certification (on any of the three levels).