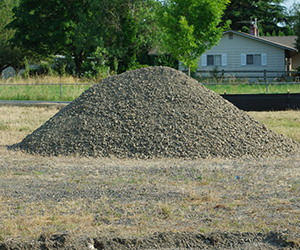 A cubic yard of earth measured in its natural position swells to more than a cubic yard after it is excavated. This occurs because of an increase in voids.
Swell is expressed as a percentage of natural volume, for example, if 10 yd3 in the ground becomes 13 yd3 after excavation, the swell factor is 30%.
The following table lists swell factors for various engineering materials.
Material
Swell (%)
Clay
Dry
40
Wet
40
Clay and gravel
Dry
40
Wet
40
Coal, anthracite
35
Coal, bituminous
35
Earth, loam
Dry
25
Wet
25
Gravel
Dry
12
Wet
12
Gypsum
74
Hardpan
50
Limestone
67
Rock, well blasted
65
Sand
Dry
12
Wet
12
Sandstone
54
Shale and soft rock
65
Slate
65
Traprock
65