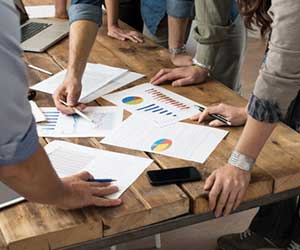 I once experienced a project horror story whereby a pile driver was snowed in at a previous project, delaying the project by several weeks until a transport vehicle could get to the stranded machine.  Since there are relatively few of these around, the project either had to wait or additional costs had to be incurred to procure another one.
Managing these types of project resource issues are part of the day to day work of a project manager.  Questions like:  Is the resource up to the task?  Is it's production level adequate?  Is it prone to malfunction?  Is it available at the right time?
Project Resources
To make sure you'll never experience the horror stories that I have, here is a comprehensive list of project resources.
Labor
Tools
Equipment
Materials

Steel
Concrete
Wood
Plastic
Brick
Cloth
Gravel
Chemicals

Supplies
Software
Database
Cell phone
Laptop or iPad
Vehicle
Shipping vehicle
Boat, plane, etc.
Packaging materials
Office supplies
Marketing material
Measuring devices
Work clothing
Rain or cold weather gear
Thermometer
Heating / cooling equipment
Environmental mitigation supplies
Safety supplies

Air quality
Poison
Burn hazards
Fall hazards

Materials testing
Construction equipment

Excavator
Compactor
Dump truck
Crane
Asphalt paver
Welding machine

Surveying equipment
Fence
Doors, windows, carpet, etc.
Paint and painting supplies
Inspection reports
Design reports
Do you have any others to add?  Let us all know in the comments.