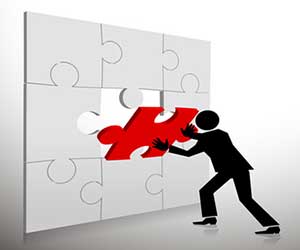 It amazes me that project closure is one of the most visible aspects of a project to senior managers and executives, yet it is also the phase that is most often skipped or shortened.
I realize that project budgets are often used up (or seriously stretched) in the final phases and skipping closing activities is an easy to way to cut the losses.  But closing the project well is one of the best ways for a project manager to grow their career and obtain future project work.  The visibility with clients, bosses, executives, and contractors is invaluable.
I've never seen a project that didn't need some sort of closure to finalize the project and prepare its data for reference in the future.
The Project Management Body of Knowledge
Closing the project is the fifth (and last) process group within the Project Management Body of Knowledge (PMBOK).  As such, it contains the knowledge areas that are involved with finishing the project.  There are only two processes in the group:
Close project or phase, within the Project Integration knowledge area
Close procurements, within the Project Procurement knowledge area
There are many different facets to closing a project well.  Here is a checklist:
Formal Closure:  The contract between the performing organization and the owner organization must be finalized and a completion certificate issued.
Procurements:  Most sub-contracts will require a completion certificate to give assurances that work under the contract has been completed.  Sub-contractors need to know they will not be returning to complete unfinished business, or if they do, to have the conditions laid out under which they must return.
Final Details:  Most projects must organize the project data in a format that can be referenced in the future.  As-built plans, project document archives, and the like must be produced as part of the project budget.  This ensures future projects are not burdened with excessive costs associated with searching for previous project information.
Liabilities:  Warranties, insurance coverage, and bonds must be put in place as needed depending on the project.  The final product must be inspected to ensure it meets the requirements of the various legal agencies.
Release of Resources:  All project resources must be formally released to their respective organizations.  This includes the people, equipment, tools, and any other item that is no longer required.  If the resources need to be sold, this can be an important project budget consideration.
Lessons Learned:  I've been part of project-based organizations where the lessons learned from previous projects were contained exclusively inside someone's head.  If you knew of someone who had a certain experience you wanted to draw on, you had to go and ask them.  This is not acceptable.  A formal lessons learned database is almost essential to a strong project management foundation for any organization.
Project Closure Report
It is important to create a Project Closure Report upon completion of the project.  This report should contain:
The scope statement, including the original and final scope and a discussion of how and why it has changed.
Original and final budget information, including a discussion of how and why it has changed.
Original and final schedule information, including a discussion of how and why it has changed.  The project milestones should have actual completion dates documented.
Lessons learned that are relevant to future projects.
All of these items should be scaled to the project size.  For example, a $4,000 environmental study might contain the final budget number and actual completion date, together with quick write-up of how the project went and any issues encountered or lessons learned.  Thus, if someone wanted to see how the project went years down the road, the important information is there.
Project Management
The project management plan, developed during the project planning phase and updated throughout the project with changes, should be finalized.  If it was diligently updated throughout the project, this will be nothing more than a note indicating it is final.  If there are places for final cost and schedule items, they need to be filled in too.
Lessons learned should be documented separately.  They should be filled out on a standard Lessons Learned form, which should go into a binder or a folder on the corporate server.  I like to include the final project cost and actual milestone dates, as they provide important context when you go back to look at the project from the point of view of a new project.  Any changes in scope or issues encountered provide important context.
All's Well That Ends Well
As you can see, providing this information to close the project is one of the most important things a project manager can do.  Skipping it is not going to help the project manager's career, in fact, it might have the highest reward per time spent compared to any other project management task because it is extremely visible to senior management and clients.