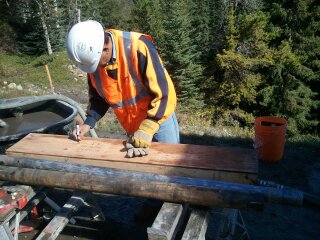 At the engineering firm I founded, we've recently seen an increase in RFP's (Requests For Proposal) that include project management as a consultant selection criteria, in one form or another.  Not just as a "nice to have" criteria, but as one of the scores that factor in the selection of the consultant.
Now, more than ever, engineering consultants need to include project management as a core part of their projects.
How to Get the Work
Our strategy, which appears to get a good reception, is two fold.  Firstly, we ensure that all project managers are certified as a PMP (Project Management Professional).  This is a certification issued by the Project Management Institute (PMI) and can be achieved in an employee's spare time.  Second, each project requires a project management plan which can be as long or as short as the project requires.  Even for the smallest projects where the project manager does most of the work, it's important in my view to have a strong project management background and I encourage each of our employees to get their PMP.
The proposal states both of these points:  That a PMP will manage the project, and that a project management plan will be drawn up which can be shared with the client anytime upon request.
How to Do the Work
We all know the best business development strategy is successful projects that result in happy clients.  Writing out a project management plan is great, but if it gets put away and never looked at again, it's basically just wasting time that could be spent on chargeable tasks.  One of the most important parts of the project management plan for engineering companies, in my opinion, is the schedule section, which should include an updated calculation of the cost variance and schedule variance.
Cost Variance
This value represents the difference between the proposal (budget) costs for the tasks performed to date and the actual costs.  Before I started my own firm, the norm was to look at your WIP (work in progress) summary which itemized the hours spent by your staff on each phase of the project, send out your invoices (which were pre-populated for you), and thus have a vague mental picture of how far off you were.  Strangely, it seemed like the variance was always negative (amazing, isn't it?) but as long as you had a rough idea and did the necessary damage control you were probably okay.
I would suggest that to keep up with the project management demands of our clients, project managers need to recalculate the cost variance weekly, or at some interval that suits the project.
Most engineering types are at least familiar with the concept of Earned Value Analysis.  The cost variance calculation includes earned value – also called Budgeted Cost of Work Performed (BCWP).
Schedule Variance
This value represents the difference between the tasks that should be performed to date and the actual tasks performed to date.  In my experience, late delivery is essentially a norm in the engineering business.  If you can make projects come in on time, your firm, or part of a firm, will do very well via a high volume of referral business.  It's that important.
How to Calculate the Variances
I have previously written on how to calculate the two variances.  It's one of ProjectEngineer's most popular posts.
Project Quality
In the engineering field, quality is paramount.  I've seen several RFP's lately that stated project quality control, as opposed to other project management issues, as one of the consultant selection criteria.
Project quality is something that engineers already do well, I think.  We ensure there's a reviewer for all design work, and our system of stamping our work ensures we take responsibility.
A project management plan that contains a section on quality spells out what is otherwise unwritten.  Project document control, for example, can be part of this section and this can keep a clear record of where the project's documents have been and who has reviewed them.
If it can be shared with a client and result in more work, or referral work, it pays for itself pretty quickly.  A project quality plan is a strong business development tool.