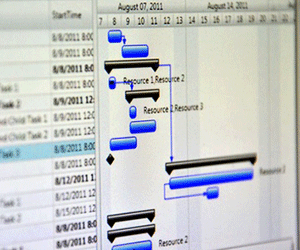 I've been asked by people who see the project management practices we employ, like project management plans (i.e. risk matrices, scheduling, and so forth), and ask: What is the value of all this?
It's a good question.  Some of our competitors appear to complete projects flawlessly, with some technical experts in charge and a "go and do the work" mentality.  Actually this is the norm in the industry.  It makes the hours spent on project management seem like a lot of overhead.
But I remain convinced in the merits of the principles of project management as a profit vehicle.  Yes, a technical expert can sometimes just get it done, but I think that when taking the long term, organization-centric view, the application of solid project management practices ensures that all projects within the organization run smoothly, for the long term.
That being said, I also think it's incorrect to assume other projects are mostly flawless, most of the time.  Often when a technical expert is assigned a project manager role, the project will have certain project management issues you don't usually hear about.  Insufficient communication, not meeting milestone dates, and external stakeholder issues come to mind.
How does project management create value?
Track project health
Ensure good communication
Accomplish more with less
Keep performance high for the long term
Track Project Health
When using proper project management practices, your project will have a running internal status indicator to tell management (or anyone) how the project is going.  At any given time, the project manager knows:
Schedule Variance (aka Earned Value).  How far ahead of, or behind, schedule the project is, expressed in dollar value for easy comparison to overall project health.
Cost Variance.  How much money the project is making or losing, relative to work performed.
The risks anticipated by the project.
Do you know these for your projects?
This gives the project manager a fantastic early warning and decision making tool for intervening in the project.  Maybe the project needs more resources, or more funding.  Or maybe it needs to be shut down.  Without knowing this data, you aren't going to be able to make the important decisions.
Encourage Good Communication
Today stakeholders demand not just strong technical knowledge and project quality, but good communication too.
Project management practices dictate that a communications plan be drawn up which includes all of the main ways that project communication will be handled, both internally and externally.
This excellent communication framework can spread to other areas of the company, and affect the corporate culture of the organization.
Accomplish More with Less
Particularly for projects which are one of many (i.e. in a project-based organization) the scheduling of people and resources can be extremely helpful.
Productivity increases when firm deadlines are in place and accountability exists, and project management ensures that this is the case.  When I was a junior engineer, at the company I worked for there was no scheduling of resources.  People simply did what they were told by multiple project managers who talked between themselves if there was a conflict.  In hindsight, although it wasn't constant chaos, there were a few project disasters that could have been avoided.  Unfortunately it was the big ones and it probably hurt the company.
Keep Performance High for the Long Term
I believe that when project management is employed the productivity of everyone is kept in check.  It is not possible to drift back into technical management.
It might not be cost effective to, for example, produce a risk matrix for a certain project, but just the exercise of doing it means that project management is slightly more integrated into the organization, which in turn means the next larger, more important project will perform better.  You might be surprised at the value creation process at work.
Scale PM effort to size and risk of project
Of course, not all project management practices are applicable to every project.  If you're building a shed in your back yard, you might not need to develop a risk matrix or communications plan.  However, a schedule with milestone dates might suit you well.