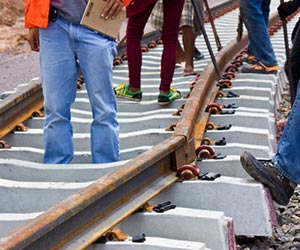 As an engineer, I've seen my share of change requests. Some have been fair, some marginal, and some just amount to petty attempts to get some more money. Project scope changes are not to be taken lightly. They represent a change in the project as envisioned, and almost always result in additional costs.
Have you ever seen a project manager give money back because the project was over scoped? Let me give you some time to think. On second thought, I think I already know.
Why not? Don't you think that projects should be overscoped as often as the are underscoped, all things being equal.
The key is, of course, that not all things are equal. When the project is in the planning stages, project managers are under pressure to keep things minimal, but once underway, the pressure is the other way: Upwards.
The Process
In most organizations, it's quite simple. The project manager identifies that the scope of a project has changed, and usually someone outside of the project (an executive, or two) must approve the change. If there's a consultant or contractor involved, they are usually the party that first identified it, and the approvals must come from executives on both sides. It's probably a good idea to vet any changes through clients/owners at the project level before the paperwork changes hands.
Make it Legit!
There is only one bottom line discussion point here, and that is that the change request must be legitimate. Regardless of which side you are on – the requestor or requestee – the scope change must have the correct amount of resources for the work being done, and the work has to meet expectations. In other words, Cost = Product. Both the cost and the product must be fair and contain the right amount of value. If that's the case, the change request should be approved/paid.
The only exception might be when the work was not requested.
I didn't Ask For This
Of course, you cannot do work without approval and expect to be paid for it, no matter how badly you think your client should be doing the work. Engineers are notoriously bad communicators and I can think of several people in my industry who have made a habit out of this. The annoying thing (for me, their competitor) is that they usually get paid, but on the flip side they are not destined for greatness.
Why does it matter?
Changes in project scope represent the single biggest cause of project failure, so make no mistake about it. If you want to be a great project manager, you need to know how to control and manage the scope of your projects.
The 5th edition of the Project Management Body of Knowledge has expanded project scope to include a scope management plan. I don't think you need to have a specific scope management plan for small projects, but certainly above a couple thousand man-hours I would consider one. Smaller projects should still have the scope statement, project requirements, and change procedures within the project management plan.
How to Request Scope Changes
If you're in the unenviable position of having to request scope changes, I've got a few tips for you:
Ask as early as possible. This is not going to be the straight and narrow path, as human nature will make you want to wait. But this might be the single biggest factor for getting approved while maintaining client/payee relationships.
Keep it fair. Do not ask for more than you really think the work is worth. It seems easy sometimes, but believe me someone on the other side will be scrutinizing it, probably someone who doesn't have a working relationship with you. And people talk – you aren't doing your career any favors by exaggerating.
Maintain a strong relationship. If you already have a strong relationship with the client/payee, great. If not, you are in for trouble. Take them for lunch. Take them to the basketball game. Do whatever you have to to maintain your relationships, but don't do it right before the change request. That can be a problem.
How to Evaluate a Change Request
If you are the person paying the request, you are obviously in a better position because you are holding the cash. But I know it certainly isn't fun to be dealing with a greedy consultant, either. Ask yourself the following questions.
Did you ask for the work? Directly, indirectly, or implied (yes, sometimes it is implied), if you asked for the work, you should pay for it. If there is an issue between whether the work was of the type or kind that was not requested, maybe a third party opinion would be helpful, but if you asked for a horse and got a pony, I would suggest you should try not to be unnecessarily harsh. Also, ask yourself what the additional cost is to correct the work. If it's less than the scope change request, as it often is, use somebody else.
Was it performed to reasonable expectations? I believe the measuring stick is not what you feel you deserve, but rather what the normal level of quality in the industry is.
Was the change requested in a timely manner? I am a firm believer that no matter how necessary something is, you must ask for the funds before you do the work.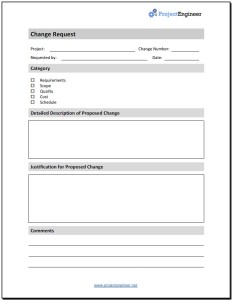 For a consulting company, in particular, scope changes are almost a natural byproduct of the systems that are in place. In order to initially get the job, the hours (and resources) are minimized. Then, once it's secured the project team members are under pressure to be maximum chargeable time on their time sheets. The third and final step in the cycle is when the project manager gets the status report and needs to sign off for invoicing. Now he or she is under pressure from management not to write off the time.
Change Request Form Template
If you need help getting your change requests organized, please download our change request form template (also see the .docx version). It's completely free and there are no restrictions of any kind.
What is your experience with change requests? I'd love to hear from you. Leave a note in the comments section.