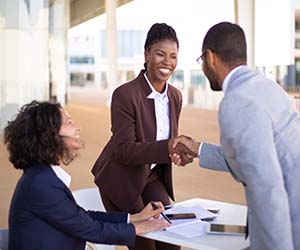 Some projects are considered successes even though they did some things I'd probably lose my career over.  And others are considered horrible failures even though I could probably find a way to navigate through their issues.
It's almost like there's a certain element of human interaction that all of the project methodologies in the world can't put into neat boxes and project task lists.
That factor is human relationships.
You can see it in the business world, where almost all businesses value customer relationships on some level as a factor in business success.  Even on the most extreme end of the scale, say a Walmart or Amazon, where people actively want less human interaction in favor of lower prices, there are recognizable human interaction points that appear intentional.  I was at Walmart the other day and there were greeters at the door as well as people helping you through the self checkouts.
On the other end of the scale are projects.  By definition, projects have a unique end product and a defined end point.  Rather than selling millions of items of stuff and creating return policies for the ones that go wrong, projects create only one thing for one customer.  Hence, it is unequivocal that having a relationship with that customer is a huge factor in the project's success.
But it's not just the customer.  Since projects are, at their core, nothing more than a group of people attempting to accomplish a task, the relationships between all parties are integral to its success.  The project team, the external stakeholders, and the client.  Any of the four members of the project organizational chart can send a project into the doghouse.
Types of Project Relationships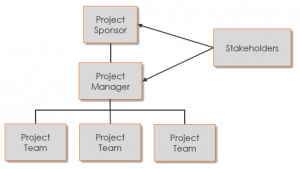 The four major relationship groups within a project are between:
The project manager and project sponsor / client
Project team members
The project manager and project team
The project manager and project stakeholders
If even one of these relationships breaks down, the project is unlikely to go smoothly.
Between the Project Manager and Project Sponsor / Client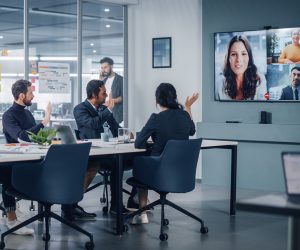 You know how it goes.  Some other project by some other firm goes wrong in a fairly obvious way.  You hear about it through the grapevine or you see it physically.  The first thing that goes through your mind is that I'm glad that didn't happen to me, I would be fired on the spot.  And then weeks or months later, you can see that those same people and/or company got the next project from that same client again.
Chances are, if you've been a project manager for a long time that this story, or some variation of it, is not foreign to you.  And I get that firing someone over the first poor project management decision might be a bit hasty.  But it is without question that a strong relationship covers alot of sins, and those strong relationships with clients, customers, and owners is essential for project managers today.
Usually there is more than one "stakeholder" on the client/owner side.  For example, a project supervisor, a foreman, an active investor or company owner.  Only the smallest projects have just one person who's relationship provides value to the project manager.
A few tips for nurturing client relationships:
Talk, talk, talk.  Especially at the beginning, confirm even the most insignificant items to make sure the client is satisfied.  This prevents minor things from turning into unnecessary issues as well as getting the relationship off to a good start.
Look for ways to demonstrate that you value the relationship.  A business lunch, a round of golf, or a face-to-face meeting when not necessarily warranted "just because."
Think about the entire circle of project relationships, not just yourself.  Introduce your subordinates, or your peers, to their counterparts in the owner organization.  Actively encourage their relationships too.  This ensures that even if something happens to your guy, the other relationships will pick up the slack (which looks good on you too).
Between the Project Manager and Project Stakeholders
Although I have referred to the client / owner as a "stakeholder" above, the project stakeholders are technically the other third parties that have an interest in the project.  These include adjacent landowners, environmental permitting agencies, future product users, and so on and so forth.  These are usually classified into the following two categories:
A stakeholder that has a high power to force project change is an important stakeholder that needs to be considered.  Likewise one that has a high interest in the project could incite opposition, even if they don't have little power over the project themselves.
If they have both high power and high interest, they are a serious consideration for the project management team.
Between Project Team Members
Who hasn't seen team members that envision a different end product, or a different path to get to that end product, or maybe they just don't get along.  The project manager is often placed in a conflict resolution role that requires strong interpersonal and communication skills to resolve the situation without detriment to the project or future career prospects of the project team.
The project manager's responsibilities are:
To monitor intra-team relationships on an ongoing basis.
To initiate action when required.
Conflict resolution is a topic far bigger than this article, but suffice it to say that in the project context, the goals of any conflict between team members is to:
Maintain the career prospects of the project team members that are involved
Ensure the project achieves its goals
Between the Project Management and Project Team
Project team members want to be compensated fairly for their work, but they also want to leave the project with something more than they started with.  This falls into three categories:
Knowledge
Almost everyone feels like their work was worth it if they have gained new knowledge that they didn't have before.
Skills
More than just pure knowledge, being able to apply a new skill to produce something that they weren't able to produce before provides tremendous job satisfaction.
Experience
Even if there was no new knowledge or skills gained, being able to add the project to their resume/CV is a highly desirable thing.  But the project manager must ensure the experience level is satisfactory to the team member.
Project Communication
For large projects it is desirable (and specified within the PMBOK Guide) that the stakeholders be identified on a stakeholder register, their power and interest over the project analyzed, and their communication needs identified in writing.  Some will need regular written updates, some will need phone calls, and some will need to sign contracts.  But they all have communication needs that, if not met, can cause significant hardships to the project.
Project management is an art form as well as a science.  We engineers love to codify projects into standard moving parts that, if executed, are guaranteed to achieve project success.  But projects don't work that way.  You cannot eliminate the artistic side, and the human element ensures that there is no substitute to building strong relationships with everyone involved in the project, from the client down to the project team.
We hope that you can take some of these tips to your projects and strengthen your relationships and ensuring they serve you well down the road.