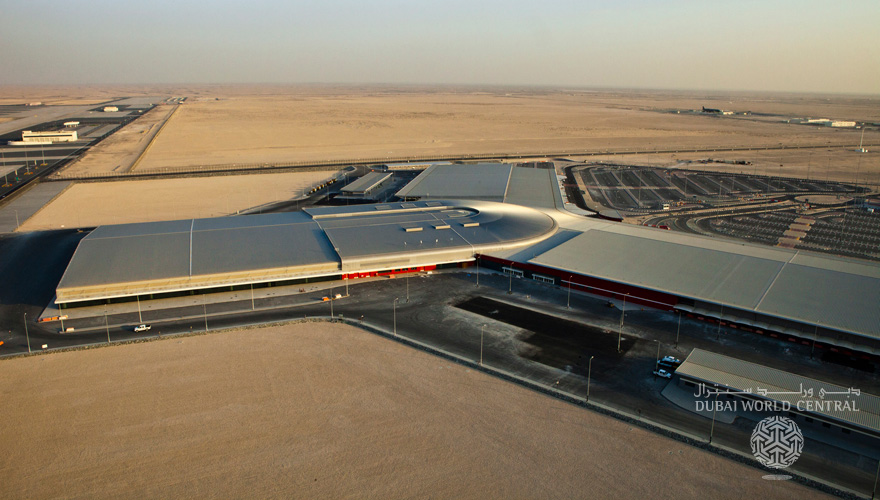 Later this month the Al Maktoum International Airport in Dubai will begin serving scheduled passenger traffic.  Al Maktoum is a central component of Dubai World Central, a new development about 12 km from Dubai's central economic district.
Once completed, the airport will have a passenger capacity of 160 million people.  For perspective, The Hartsfield-Jackson International Airport in Atlanta, Georgia is currently the busiest in the world serving 90 million passengers annually.  The Dubai International Airport which it replaces currently serves 57 million annually.  So Al Maktoum is not likely to be the busiest airport in the world when it is fully operational (Dubai currently ranks 10th), but it might be the largest facility.  The airport will include:
Five parallel runways, each 5.4 km (3.4 mi) in length. Six runways were originally planned, but the number was reduced to five in April 2009.
Three passenger terminals, including two luxury facilities; one dedicated to airlines of The Emirates Group, the second to other carriers, and the third dedicated to low-cost carriers.
16 cargo terminals with a 12-million tonne capacity.  For perspective, Hong Kong's Chep Lak Kok International Airport is currently the world's busiest by cargo volume, with 4.1 million tonnes/year.
Hotels and shopping malls.
Over 100,000 parking spaces for airport staff and passengers.
Linked to the existing Dubai International Airport by a proposed high-speed express rail system
It will also be served by the Dubai Metro and a dedicated Dubai World Central light railway.
An estimated price tag of $82 billion.
The airport will cover an area of 220 km2(85 mi2), which is second only to Saudi Arabia's King Fahd International Airport.
Check out the official project photo gallery.