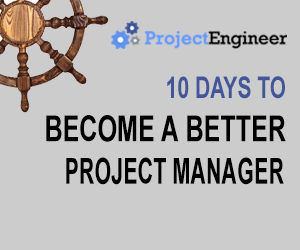 So you want to learn about project management, but have been putting it off into the "one day" basket? Or maybe you're already familiar with project management techniques and would like to brush up on your skills. In either case, you're not alone.
You've come to the right place.
A few months ago I was having lunch with an old colleague who told me he wanted to be more than just a technical expert and "manager of projects." He wanted to learn how to become a true project manager, and didn't know how to go about doing that. I told him about the various project management courses and certifications, which he investigated. But I realized there should be more. There should be a simple, ten minute per day tutorial that gives you the fundamentals of project management and helps you apply it to your projects.
The idea is simple. By the end of this two week long blog series you will have learned 10 of the major concepts of project management. But not only that, you will have put them into practice. This program is not only designed to fill your head with knowledge, but to apply that knowledge to real projects. You will truly be on the road to becoming a rock star project manager.
Day 1 starts on Monday, March 23 and the series will run through to day 10 on Friday, April 3 (two weeks).  Make sure you check back on this page, or on the home page, which will be updated daily.
Day 1: Create a Scope Statement
Day 2: Define Project Success
Day 3: Create a Work Breakdown Structure
Day 4: Generate a Project Schedule
Day 5: Estimate the Project
Day 6: Determine Project Status using Earned Value Analysis
Day 7: Identify Project Stakeholders
Day 8: Mitigate Project Risks
Day 9: Create a Project Management Plan
Day 10: Motivate the Project Team
Prerequisite: Pick a Project
The only prerequisite is to pick a project from your current workload to practice on. It doesn't matter what size or what it's about. We just need something to perform the simple daily project management tasks on.
It can be an older, finished, project too, but the Earned Value Analysis on Day 6 will require an estimate of percent complete for various tasks. You will just have to pick random values to complete the analysis.
Let's get going.  Day 1 starts on monday!