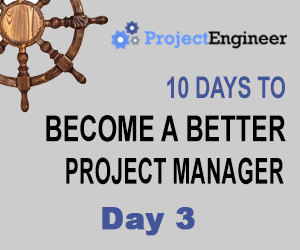 To manage projects effectively, they need to be divided into work packages.  This allows you to focus on the smaller tasks at hand and how they relate to one another, which makes the whole project more manageable.
It forms the basic building blocks for planning, controlling and measuring project performance.  Estimating the project cost and completion dates depends on it.
The list of tasks is called a Work Breakdown Structure.
Format
You will find various formats in use in practice, and there isn't one correct one.  Here is an example of a graphical style: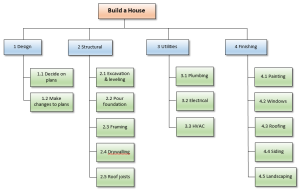 Here is an example of a spreadsheet-based format:
Based on Deliverables
The WBS is structured around deliverables.  Most projects have multiple deliverables throughout their duration, like production of reports, creation of a prototype, design of a component, etc.  It's these deliverables that should contain their own WBS tasks.
Match to Cost Accounts
Many organizations have an established system of cost accounts which can be used as project tasks by the project manager.  This will integrate the project into the organization's existing processes and allow for easier tracking and monitoring.
Length
There isn't a one-size-fits-all guideline for the length and size of WBS components, because projects are so diverse.  But there are certain guidelines that I will share with you.  The most important factor, I believe is this:
Divide the projects into work components that can be reliably estimated.
This includes both time and cost.
Beyond that, keep in mind the following guidelines:
The first level of the WBS is the overall project deliverable.
The second level is usually a series of project "phases" structured around deliverables.  There should be no more than roughly 5-10 phases.  Any more is difficult to manage and maintain control of the project, and results in excessive paperwork when you start determining progress.  But less than 5 means you won't be able to make meaningful progress estimates.  We'll deal with that in day 7 but suffice it to say you should use the amount that your project naturally falls into.  If there are 2 or 3 distinct phases to your project, use those.
The third level usually includes "tasks" rather than "phases" as you proceed to more detailed work packages.  I've seen many different guidelines for the length, even as I was researching this article.  But the most important thing is to keep it manageable.  As in my spreadsheet WBS example above (which is a real, albiet small, project from the engineering company I founded) I once again lean towards 5-10 items, just because it's manageable.
If you're dealing with million plus dollar projects, you might include a fourth (and more) levels, which break down the work into further more detailed work packages.
The 100% Rule
This rule states that the WBS should contain 100% of the work within the project, not more and not less.  Sounds obvious, I know, but being off target is one of the easiest ways to put your project on a collision course with problems.  If you underscope it (miss things) you will run out of time and money (i.e. be overbudget) before the project is complete.  If you overscope it you will have difficulty getting project approval and/or win the work.
Keep it Measurable
The WBS tasks need to be measurable.  If you can't easily put a progress amount (percentage, etc) on it you should consider rolling it up into a bigger task than can be reliably measured.  Measuring progress will be covered in a later section of this series.
For example, if you're building a house, obtaining an electrical permit is often a one-off task, either 0% or 100% complete.  This doesn't provide much meaning to the progress calculation.  It should be combined with other similar tasks, for example "obtain all permits."
Minimum Requirements
According to the Project Management Institute, the minimum required information for a proper work breakdown structure is:
Identification number
Description
Person responsible
Understandably, you need a task description and a person responsible (items #2 and #3).  But I would argue that the minimum information is actually the hierarchical structure (level 1, 2, 3, etc.) and doesn't necessarily include the person responsible.  I tend to think the project manager is ultimately responsible for the work tasks even if someone else is performing them, hence this is extraneous information.
Today's Task
Today's task is to determine the tasks that are involved in the project you chose in the introductory post.
Order them in a list, and limit it to between 5 and 10 tasks long.
If any of the tasks can be broken down into subtasks, create another list (a "lower level" of the WBS).
If your project is big enough to warrant a third level (or fourth) use the same 5-10 task guideline per level.
At the lowest level, you should be able to reliably estimate each task.
Don't let perfectionism bog you down.  You might not know what the forthcoming analysis of the tasks will entail, but just create some tasks for now and you can come back to them later.
In future days we're going to proceed with scheduling and estimating using the work breakdown structure we've created here.  It's getting more interesting and I'm excited that you are joining me on this journey.
Navigation