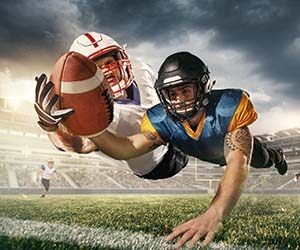 There's nothing more aggravating than cheering or the underdog and then watching the favorite team win with what seems like a complete stroke of luck.
But ask anyone who has played a sport.  The lucky bounces always seem to go to the better team.
It seems to defy logic when a shot results in a lucky bounce that has very little to do with skill.  You inspect and ponder the replay, it's a near-total fluke, a luck of the draw, a freak of nature.  But the better team always scores on those, and the worse team does not.
How is it possible that the good luck always goes to the better team?
Maybe the better player takes better shots, or takes them at the better time.  In fact, they probably do.  But most likely they tend toward getting more or better chances because they take more shots, because you're likely to succeed on more lucky ones if you take more shots, overall.
In this article, I'm not going to analyze the probabilities of how many balls, pucks, or shotputs land at their intended target, nor how to make the fluky ones go our way.  Although that would be fun (for me, anyway!).  But rather, I will accept the crazy laws of nature and I will ask:
How can we as project managers take more shots, so that more of them end up as goals?
Although the following three things apply to many other areas of life, I will focus on project management.
Aim High
Take Risks
Motivate the Project Team
Aim High
Wayne Gretzky famously said,
You miss all of the shots you don't take.
Whether or not you've ever played sports, this advice could be the one thing that makes or breaks your projects, or even your career.  Plan to take more shots.  The more shots you take, the more you will score, and yes, the more lucky ones you will have as well.  On top of that, the goals might be boring and unworthy of highlight reels, but they all count.
How does aiming high look in the world of project management?
Know what the definition of success is
Make a plan to achieve it
Set realistic expectations, especially schedules and budgets
Define quality requirements, and meet them
Know the important risks to your projects success
Keep strong relationships with stakeholders
Do what you say you will do
Take Risks
Large organizations are famous for stifling innovation and risk-taking.  Anything bad that happens makes upper management fear their loss of control and implement more rules, which over time creates an environment of conformance.  But all of business is a risk vs. reward proposition.  That is, removing the risk by implementing a rule almost always results in an increase in costs (or an inability for team members to generate additional business) and hence compromises the reward.  Hence, rather than focusing solely on the risk side of the equation, management needs to recognize the existence of the risk/reward spectrum and decide where they would like to be on it.
This applies to large non-governmental projects as well.  At the time of this writing, my small engineering firm has 11 people and is involved as a subcontractor on a large project (9 digits), so it is not hard to see how the rules within the large project cause a significant increase in costs versus our normal small projects.  And stifle innovation.  I'm not saying the rules are bad, I'm saying there's a trade-off and management needs to decide where they want their project to be.
It is, of course, important to conduct oneself within the boundaries that others above us set for us.  Doing otherwise could hurt your project and your career.  Prior to taking risks that are outside the risk tolerance of the bigger organization, you need to make sure the appropriate approvals and/or stakeholders are in place.
But taking risks is important to moving forward, and fostering it is an important job description for project managers.  Here are some key focus areas to foster risk taking within your project:
Celebrate failure
Failure means you've ruled something out on the road to learning something new.  It's a step forward, not backward, and the fear of the consequences of failure is the primary reason why people will not want to try something new.
Take Responsibility
The project manager needs to be the first to accept responsibility for the consequences of failure, and the first to pass on the credit for success.  If vice versa, again, team members will not want to try something new.
Know the stakeholders
In our interconnected world, every action has stakeholders, and some are surprisingly easy to miss.  Financial managers, landowners, upstream or downstream businesses, environmental agencies, government regulatory agencies.
Projects are the vehicle through which most organizations pursue change, so even large organizations often want projects to be separate from the bureaucracy of the larger firm.
Motivate the Project Team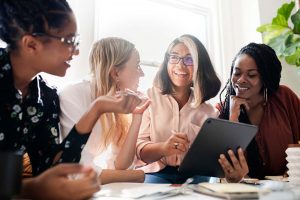 If you're a gifted motivator, congratulations.  But most project managers are not.  In fact, the project management profession probably attracts people who generally aren't cut from that cloth.  But if you want to score on more of your shots, you will need to motivate your project team.  Luckily, as I will show you, there are some simple things you can do to make your project team want to work for you.
Firstly, project team members want to get something personal out of the project.  Since the project is a finite thing, with a well defined end date, they don't want to waste their careers working on it without taking a personal step forward.  This takes two forms:
Skills
Experience
Obtaining new skills provides most people with job satisfaction, and experience allows for more rewarding work on future projects (or future organizations).  Ideally, you can offer them both.
Secondly, they want rewarding relationships with other people.  This is a fundamental requirement of human nature.  They want relationships:
With the boss.  That's you.  Make sure instructions are clear and that they know whether or not they have your approval.  Offer rewards for work well done.
With their co-workers.  Ensure an environment where friendships can blossom and non-work relationships are encouraged.
With external people.  Some people have unique needs, like child care or a hobby that they would like to work around.  Make sure there is work-like balance.
Thirdly, make sure people are compensated according to their peer group.  Paying too much doesn't usually provide better results, but paying too little will result in unhappiness and employee turnover.
But mostly, just make sure you pursue all of the opportunities that arise.  Taking more shots does result in scoring more goals.  They won't all go in, but more of them definitely will, and sometimes you'll even be surprised at the the lucky bounces that will go your way.  It might even defy logic sometimes, but you might find yourself like the player that scored the big game winning goal in overtime.