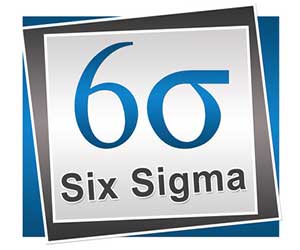 Six Sigma is a technique used to reduce defects in manufacturing processes. Hundreds of organizations across all industries use Six Sigma to decrease costs, increase profits, and improve quality. Although it was popularized in the 1990's its processes are well established in many organizations today.
Six Sigma practitioners are trained in the science of analyzing defects and correcting the processes that created them. They initiate six sigma improvement projects who's goal is to upgrade the existing process or create a new one which meets the six sigma standard for defects.
People might want to become trained in Six Sigma for many reasons:
To become part of their organization's six sigma team
To start their own six sigma projects within their company
To increase the quality of their or their team's work.
To learn more about Six Sigma, read our Six Sigma Basics.
There are 3 basic levels of Six Sigma certification:
Green Belt
Black Belt
Master Black Belt
Green Belt
Green belts are the "front line" Six Sigma workers.  They use the Six Sigma methodology to carry out six sigma improvement projects. They measure and analyze the existing processes, make design improvements, and implement them to reduce defects. They analyze and present findings to more senior Six Sigma staff. They are supervised by black belts.
There is no project experience prerequisite to obtaining a green belt. You can take an online (or physical) course to obtain the certification. The course must be two weeks in duration and consist of the basic six sigma curriculum. It is valid forever, that is, you do not need to be recertified.
Black Belt
Black belts are the leaders of Six Sigma projects. They plan and guide the Six Sigma project, and make decisions regarding the recommended improvements to the business processes being investigated by the Six Sigma project. They supervise green belts in the implementation of six sigma improvement projects.
The prerequisite for obtaining a black belt is to achieve the green belt first. It also requires the successful implementation of a six sigma improvement project, which can be done as part of the course but must be a real project, not a hypothetical, classroom-based project.
To get a black belt, you must carry out the following steps:
Take four weeks of training in the methodologies and implementation of Six Sigma.
Successfully implement a Six Sigma improvement project.
Master Black Belt
Master Black Belts are the Six Sigma program managers.  They generally don't manage individual Six Sigma improvement projects.  Rather, they identify and prioritize six sigma improvement projects and manage the overall Six Sigma program for an organization.
Master Black Belts require six weeks of training which includes the skills to teach Six Sigma processes to others within the organization.
Other Levels
Some organizations have identified other, unofficial, levels as part of their six sigma program:
Yellow belts assist green belts in the day-to-day operations, analyses and presentations of a Six Sigma project. They have six sigma training but act as assistants to the green belts.
White belts are not directly involved in  Six Sigma projects, but have been trained in the process.
How to Achieve Six Sigma Certification
Six Sigma training is a decentralized process with little primary oversight.  The International Association for Six Sigma Certification (IASSC) creates the standards and certifies training organizations, but many training courses are not certified. Therefore you will find the full range of quality within the training programs. Having a six sigma certification on your resume gives employers some confidence in your training, but they need to ask where you got it from to determine the quality of the training. Technically, this is no different than obtaining a college degree, which is only as much as which college the degree came from.
The IASSC-certified programs allow you to use a designation after your name, for example ICGB – International Certified Green Belt.
Online courses for green belts start at about $100.  Black belt courses start at about $300 and require the submission of a six sigma improvement project. If you cannot get that experience, or if you register with a training provider that doesn't require it, your certification will not be of the highest standard.