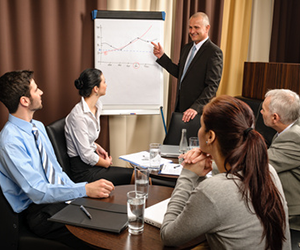 A corporate goal is an specific, measurable objective toward which an organization channels its efforts.  Goals support a vision or mission statement.
In strategic planning, the establishment of corporate goals comes right after the development of corporate vision and mission statements.  These documents lay the groundwork for determining the more specific goals that an organization should strive for.
A corporate goal must:
Be measurable
Have a time limit
Correspond to a manageable time frame
Goals Must Be Measurable
I don't know how many times I've seen vague, poorly defined goals which sound really good on paper, but I can assure you if there is no concrete measuring stick the goal will end up on the backburner, or worse, completely ignored.  This is because nobody will know if the company has succeeded in meeting the goal or not.  Countless meetings will be spent discussing the progress, but without a solid success criteria you are not likely to achieve the goal, and alot of time can be wasted very quickly.
No goal is perfect, but if you don't put a number on it, you don't give the team anything to strive for, and human nature is such that you need something concrete to strive for.  If the organization doesn't succeed in its goal due to factors outside of its control, such as market conditions, you can set another goal next year, but if you don't set up something concrete it will have less chance of success.
Sometimes it is very difficult to define a strong, measurable criteria.  For example, what if your business wants to transition to a higher quality clientele.  What is higher quality?  How many of those higher quality clients do you need?  My suggestion is that there is always something measurable, even if it's not exactly on target.  For example, maybe there is a fee per project (or client) that can be measured.  It's still better to give the team something concrete to strive for, because they are more likely to achieve it.
Goals Must Have a Time Limit
I know it sounds fairly obvious, but at the large engineering firm where I spent the beginning of my career this element often got dropped.  Measurability criteria was easier, and it felt like you had a concrete goal in place even before you put a time limit on it.  But without a time limit the goal will end up permanent, with nobody really substantially invested in it.
At the engineering firm, my division's leader often cited a goal of reducing dependence on our single biggest client.  But there was no time limit on the goal, and over the years the goal was stated over and over again without ever being reached. Well, technically the goal was reached some years later through a reorganization made necessary by our division's under performance.
Goals Must Correspond to a Manageable Time Frame
Goals should correspond to a 2-5 year time frame, on average.  They must not be so bold and grand as to reduce motivation and employee engagement.  Any more than 5 years to achieve a goal will reduce the motivation of the team to achieve it.
For example, if you are a small niche player, a corporate goal of becoming the market leader is not advisable. It would be better to motivate your employees with goals such as becoming the market leader in one geographical area, or in one product line, before revising the goal to becoming the full market leader.
This is a bigger problem than you think.  Many entrepreneurs and ambitious managers think big.  They know they want to make a difference in their industry and are willing to put in the effort to get there.  Also, some other managers want to delegate their business development to subordinates, so they set big, unachievable goals for people who shouldn't be saddled with them.
Examples of Corporate Goals
Increase revenue/profitability
Decrease costs
Increase market share
Introduce new products
Secure new client(s)
Expand to a new geographical area
Open new stores/locations
Increase quality of product
Increase delivery time
Hire new people
Increase retention rate or morale