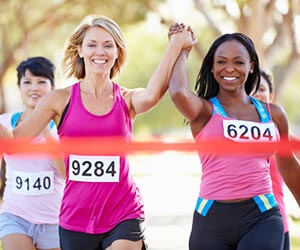 Key Performance Indicators (KPI) are clear, specific metrics that measure an organization's progress toward a corporate goal.  They generally have a time component, because they track the execution of a corporate strategy. They are the "scorecard" part of a balanced scorecard.
To develop KPI's, it helps to divide them into three categories:
Target

Relative

Progress
Target
A target KPI is the simplest form. It's as simple as setting a numerical target, such as:
Gain 5 new clients.
Achieve earnings per share of $1.50.
Sell 500,000 units.
Hire 10 new people.
Target KPI's are pretty black and white. All businesses have many external factors that affect its bottom line, and if you've committed to a number there isn't alot of flexibility. Maybe that's the point, but sometimes a more effective and achievable KPI is one that is relative.
Relative
These are KPI's that relate back to some form of the current state of the business.  For example:
EBITDA increase of 10%.
Increase client base by 15%.
Sell 25% more units.
Using a relative measure establishes the rate of growth of the business rather than a hard number, and are often more widely used.
Progress
These are performance indicators that indicate the progress of something the organization is working toward.
Plant upgrade 50% complete.
Reorganization complete.
Other Requirements of KPI's
Accountability
In order for KPI's to be used effectively, they need to be accompanied by accountability.  Each KPI should be assigned an owner, for example, the manager in charge of polystyrene production should be assigned the KPI of "increase polystyrene production by 20%." The owner of each KPI needs to get a report on a daily, weekly, or monthly basis (whatever is appropriate for the KPI), and the business manager should hold regular meetings to discuss the state of each KPI (or at least get a regular progress report).
Graphical Tracking
Although there might be cases where a graphical plot of the progress of a KPI is not useful, I would suggest almost every KPI should include some form of graphical representation.  Because of the time element inherent in KPI's, a graph or bar chart works well and allows you to present progress to management or other stakeholders.
Verifiable
KPI's should be easily verifiable and the data readily available. Generally, the more specific the KPI is the better. But using a metric that takes substantial effort to measure is equally as bad as being too general. The likely outcome is that it won't get measured accurately, or worse, not at all.
Part of the Balanced Scorecard
Key Performance Indicators are an integral component of the balanced scorecard. In corporate strategy, they provide the progress metrics which get tracked to ensure an organization is progressing toward its strategic goals.
Example KPI's
Here's our checklist of 40 sample KPI's.  By the way I am absolutely not suggesting you should have 40 KPI's, but this list will help with brainstorming the ones you need.
Revenue
Revenue growth
Profit
Profit growth
Input cost
Input cost growth/decline
EBITDA
Return on Investment (ROI)
CAPEX (Capital expenditures)
OPEX (Operating expenditures)
P/E ratio
Selling price of product
Price of supplies
Number of units manufactured or product produced
Manufacturing cost
Amount of manufacturing waste
Margin
Market share
Market share among certain demographic, geographic area etc.
Number of leads generated
Conversion rate
Manufacturing time
Delivery time
Quality of product
After sales support – satisfaction, response time, etc.
Amount of rework
Number of stores/locations
Number of dealers
Quality of dealers
Employee cost
Employee turnover
Employee satisfaction
Utilization rate
Employee charge out rate
Client satisfaction
Project stakeholder satisfaction
Number of projects (or certain type)
Project cost variance
Project schedule variance
Number of scope changes or change orders (or amount)
If the ideal metric for your business isn't one of these, please let us know in the comments and we'll add it.