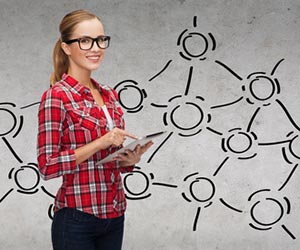 In this article, we will take a leisurely stroll through the strategic planning process. This includes the model most used in textbooks and courses on corporate strategy. The strategic planning process consists of the following steps:
Vision Statement
Mission Statement
Corporate Goals
Corporate Strategy
Metrics
Vision Statement
A vision statement is a statement of where the company wishes to be in the long term. It sets a very high level goal and establishes the core ideology of the organization. From my experience, some companies roll this up into the mission statement. The vision statement defines "point B," where the company wishes to go.
Examples of vision statements:
Become the dominant player in the industry.
Make the best tasting, fair trade coffee.
Develop the country's largest wind farm.
Become a major player in the industry in our region.
Produce the highest quality drill core in the industry.
Mission Statement
Now that you've defined what point B looks like, the mission statement defines how to get from point A to point B. In the mission statement, there are no numbers (generally speaking).
The mission statement consists of the business purpose of the organization. i.e. Why does it exist? This is still a high level, broad statement but usually stated from the customer's perspective. It is an important communication tool from which the corporate goals and strategies are produced.
Here are some examples of mission statements:
Become the world's leading provider of soft drinks by leveraging our brand recognition and superior logistics network.
Develop the state's largest wind farm by using scale to develop competitive advantage. Stakeholders and regulators are paramount and will be consulted in every phase of the design and construction.
Produce the highest quality engineering reports in the industry by employing the most experienced people and providing superior training and supervision.
Become the industry's leading player by developing superior marketing and sales teams, and providing leading after market support.
Grow earnings per share by 5% every quarter by speeding cycle and delivery times, and by making other strategic investments in the business as identified in regular progress meetings.
As you can see, it includes a component of how to carry out the vision, but stops short of citing numbers and hard goals.
Corporate Goals
The primary difference between a mission statement and corporate goals are numbers. From the mission statement, which does not contain numbers, corporate goals provide quantitative, actionable targets which can be either hit or missed. There should be no middle ground.
Corporate goals should be SMART:
Specific. General goals are easy to make and avoid responsibility. If your goal is "to improve" I've got news for you. You probably won't.
Measurable. It sounds obvious but with business goals it's not always that straight forward. Make sure you have some sort of hard quantity that can show you how far you have (or haven't) come toward completion of the goal.
Achievable. Attempting to achieve unrealistic goals demoralizes the team and produces a lack of motivation in future endeavors. And it might ruin your career in the meantime.
Results oriented. Setting goals that don't relate directly to business performance does not produce results. Focus is the key.
Time bound. I've seen corporate goals become lost in time. Everyone knows the goal but nobody is trying to get there. Particularly if it demands people go out of their comfort zone (a common occurrence), there needs to be a time constraint or things will not get done.
Some examples of corporate goals:
Achieve the highest market share in the industry.
Grow revenue in the business unit by 10% per year for 3 years.
Produce the highest quality furniture by exceeding the industry average return rate by 2%.
Improve delivery time by 5 minutes.
Be recognized as the industry leader in reputation (although not measurable, I will allow this one because sometimes this is an important goal – all possible effort should be expended to measure what you can though!)
Corporate Strategy
Once corporate goals are established you can determine how to achieve those goals. Corporate strategy consists of planning the actions required to achieve corporate goals. In this phase, projects, tasks, and milestones are planned and metrics to measure the progress are determined.
Some of the activities involved with corporate strategy include:
PEST analysis stands for Political-Economic-Social-Technological. It is a great way to quantify the external factors that influence the achievement of corporate goals.
Value chain analysis is a nice tool which focuses on how the activities of an organization create value for customers.
Five forces analysis analyzes the competitive position of an organization in relation to its peers.
Four corners analysis analyzes competitors strategy in an attempt to determine their future actions.
SWOT analysis stands for Strengths-Weaknesses-Opportunities-Threats. It is a fantastic tool to determine where an organization is at and how it will get from here to there.
War gaming can be used to replicate strategic moves in a no-risk environment, to aid in decision making.
Metrics
A corporate strategy is not complete without metrics. Often called by the more technical term Key Perfomance Indicators, or KPI's, metrics are numerical (if at all possible) measured values from which the progress of the strategy is determined.
Here are a few examples of KPI's:
Earnings per share
Total factory output
Average delivery time
Consultant evaluation score
Defects per 1000 units produced
Daily, weekly, or monthly progress meetings should be held to discuss each KPI, what is going right or wrong, and how to get it back on track. If a KPI is going south and there are problems foreseen with the achievement of a corporate goal, you have an early indicator which can be used to warn the management. If the corporate goals need to be adjusted, that can be dealt with on a case by case basis, but I would suggest you should not adjust corporate goals without revisiting the first step in the process – the vision statement – and moving back through the strategic planning process from there.
KPI's represent the implementation of the strategic planning process.
I hope you've enjoyed this walk through the strategic planning process and that it helps you to develop some good KPI's for your business. I'd love to hear in the comments what your experience is and if you have anything to add.