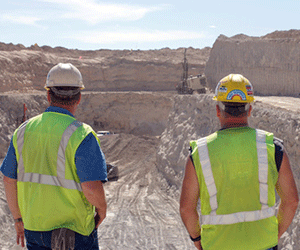 Have you ever been involved in a project where unexpected issues outside of the control of the project team cause the project schedule to change?  Never?  I didn't think so, you're way too good for that.  But for the rest of us mere mortals, keeping projects on track is an important consideration.
Actually, I think larger projects are more likely to see schedule hiccups even in spite of the resources and/or project management expertise available to them.  I've been part of some – let me think here – eleven figure projects, and change at that level seems to be the norm, not the exception.  Some of the project management team tends to be dedicated to dealing with change orders.
A network diagram is one of the project manager's primary tools.  Although many large projects have big, complex network diagrams drawn out on a wall, I think they're more useful for the small, casual, back-of-the-napkin stuff.  Things like analyzing a change order where a technical expert will tell me the tasks that are involved and how they are related to one another.
Types of Network Diagrams
There are two types of network diagrams:
Activity-on-node
Activity-on-arrow
I think that the former (activity-on-node) is the most intuitive and useful, because projects are really just a series of tasks and writing the tasks in boxes and connecting them with arrows seems to make the most sense.
In this article, we will continue with Activity-on-Node terminology.
How to Draw a Network Diagram
A network diagram is a graphical representation of tasks.

The arrow means that the geotechnical drilling has a predecessor relationship to the lab analysis.  That is, the lab analysis cannot start until the geotechnical drilling is complete.
If two tasks can be performed simultaneously, or they have more than one predecessor, you can draw two arrows to it.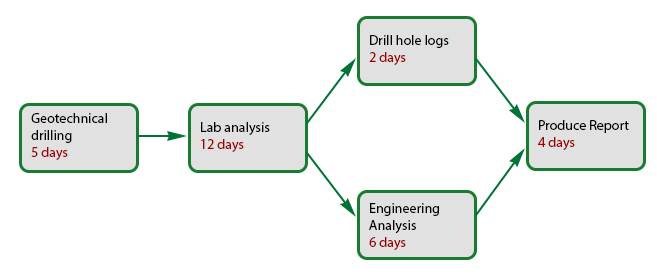 Using the critical path method, the longest path from start to finish defines the minimum completion time for the project.  In this case, this mini-project would take a minimum of 27 days (5 + 12 + 6 + 4).
If you have a target completion date, defined by a client or manager, you would have to start 27 days earlier (in this case) to finish on time.
How to Keep a Project on Track
There are two distinct times when you might want to draw a network diagram to keep your projects on track:
Project planning
Analyzing change orders
Project Planning
Most people without a project management background will divide the project into tasks, assign a certain number of hours, expenses, or whatever to each task, and add up the total.  It's not rocket science, but the time required to carry out the project is generally guesstimated with barely anything in the way of calculation or justification as to how it is achievable.  Somebody with technical experience or seniority in the organization inherits the noble job of picking a date out of the air (after thinking about it really hard).
Isn't there a better way?
In order to make full use of project management practices, you should draw out a network diagram during the project planning stage.  It takes 5 minutes, and very little brainpower.  Draw it on the back of a napkin at the restaurant, or jot it down at the office whenever you feel motivated.
You can be as general or as detailed as you like.  A simple network diagram with 5-10 tasks, like my example above, will hardly take anything away from your regular workload but it will do wonders for project delivery.  If you've got more time, you could draw out a large, complex one and update it regularly.
You must give a realistic thought not only to how much time each task will take, but how they relate to each other.  Missing predecessor relationships is a surprisingly easy thing to do:
Do you really need to finish the lab analysis before starting the engineering?
Is it realistic to expect the engineer to start work immediately upon completion of the lab work?
It's not the choosing of tasks, but rather the relationships between them that provide their power.
Project managers always think in terms of network diagrams.  Even if the overall project network diagram is more complicated, the basic network diagram, consisting of between 5 and 10 tasks, should always be in your head and recitable on demand.
Analyzing Change Orders
Almost all projects experience some form of change from their initial conception.  If not, you are either extremely good, or the project is not that complicated.
Remember what I was saying about thinking in terms of network diagrams?  In order to maximize project management tools on your projects, you should immediately default to a network diagram anytime something threatens to change the project timeline.
Is a member of the project team slow to produce?  Did the equipment rental experience a delay?  Pull the basic network diagram (5-10 tasks) from your long term memory and answer the following questions:
Which task is affected?
What other tasks are dependent on it?
Is it on the critical path?
If so, what is the impact on the completion date, and are there any other tasks which can compensate?
Think in terms of Network Diagrams
To be a more effective project manager you should think in terms of network diagrams.  Commit the basic network diagrams for all your projects to memory.  When things come up, think immediately of the network diagram and how it will be changed.
Most of all, do not be intimidated by drawing out network diagrams whenever you have the chance.  The more, the better.  It's extremely easy and takes very little time.  Your clients, customers, etc. will love you for it, and your career might be upwardly mobile in a way you never thought possible.