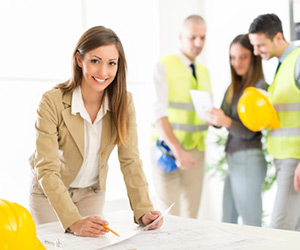 The project manager is the ultimate responsible authority for the successful completion of the project.  They establish the critical success factors and take responsibility for achieving them.
Usually the project manager inherits criteria that the project must work with, such as budget, stakeholder concerns, and so forth.  These are codified within the project charter (i.e above the project).  But everything else is then planned by the project manager.  They create the expectations within the project management plan and must ensure those expectations are met.  The project management plan contains the project schedule, budget, stakeholder needs, communication requirements, risk analysis, and anything else that is considered a part of the project plan.
The project management plan is approved by the project sponsor and hence becomes the official project plan.
During project execution the project manager performs monitoring and controlling work such as earned value analysis, quality audits, risk analysis and so forth to ensure the project stays on track.  Any deviations from the project plan must be recorded in a change log and re-approved by the project sponsor.  This includes the two most important items for most projects, the schedule and budget.
Once the project is complete the project manager must close the project, creating as-built plans, closing contracts and establishing warranties and so forth.
The following are 27 roles and responsibilities of the project manager:
Writing the project management plan
Directing and managing project work
Initiating project changes
Developing a project budget
Monitoring the actual spent
Dividing the project into tasks
Creating the schedule
Monitoring schedule progress
Determining resources
Procuring resources
Negotiating contracts
Determining the project team roles and responsibilities
Acquiring the project team
Developing the project team
Determining the project scope
Preventing unauthorized scope change (scope creep)
Identifying stakeholders
Managing stakeholder expectations
Communication with stakeholders
Creating project updates
Determining quality standards
Quality control
Quality audits
Identifying risks
Analyzing risks
Developing risk response plans
Closing the project