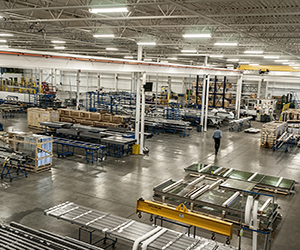 Takt time is a lean manufacturing concept which represents the exact rate at which a plant must produce its product to satisfy demand.
It is measured in time per production step (minutes, hours, etc.).
Although order levels fluctuate for many products and factories, the underlying demand tends to be constant.  Hence, the production rate of the plant should correlate with this demand.
Rate of Production (units/time) = Demand (units/time)
In lean manufacturing, this concept is extended all the way down into the design of each production line step.
Length of one production step (time) = 1 / Rate of Production (units/time)
This is the takt time, and every production step is designed to produce its product at this rate.  Some steps can utilize multiple operators to achieve the same takt time if necessary.
Hence, like the beat of a drum, the factory moves at the rhythm of takt time.  Each production station is coordinated at that tempo so that the plant sings the same tune in perfect harmony, virtually eliminating the need for temporary inventory between production steps.
Takt Time Example
A television assembly plant produces a television every 5 minutes.  Every step in the production line is 5 minutes long, hence the product moves from station to station in a coordinated fashion every 5 minutes.  This corresponds to the underlying demand for the product.
To scale up to additional demand, lean manufacturing would dictate the use of multiple, parallel assembly lines.  Each line utilizes small machines instead of large bottleneck ones, which reduce the risk of assembly line stoppage and allow for fast changeovers to product variants.  It also ensures that the raw material is always moving as soon as it enters production, allowing for quick realization of value in the hands of the customer, and therefore payment.
For example, if a customer purchases 100 widgets per day, and the plant operates for 10 hours/day, the takt time is 0.1 hours, or 6 minutes.  That is, the plant must produce a widget every 6 minutes to meet demand.
Takt Time Formula
To calculate takt time, take the available production time divided by customer demand:
Takt Time = Available Production Time / Customer Demand
If a plant operates at 480 minutes/day and demand for the product is deemed to be 240 widgets/day, the takt time is 2 minutes.  The assembly line should be designed so that each step is 2 minutes in duration, allowing for uniform "flow" without stopping that satisfies the demand on a
just-in-time
basis, as per lean manufacturing methodology.  Multiple, parallel assembly lines can be utilized to optimize cycle time and machine size.
Number of Operators
Some manufacturing processes require significantly more processing time than the takt time, in which case it might make sense to construct two or more parallel "operators" to achieve the takt time.  In this case, the following calculation tells you how many operators are required:
Number of Operators = Total Work Time / Takt Time
For example, if the takt time is 2 minutes and it takes 6 minutes to stamp a set of plates together, the number of plate stamping stations needs to be 6 / 2 = 3 operators.
Takt Time vs. Cycle Time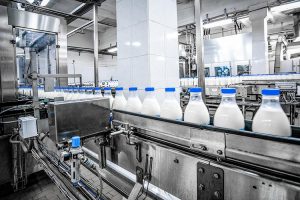 These two terms are often confused.  Cycle time is the time that it takes one unit to proceed through one production step.  Takt time is related to customer demand.
Cycle time is the actual production rate.  Takt time is the ideal production rate according to customer demand.
The goal is to align the cycle time with the takt time, but in most plants this is a continual optimization process.  In fact, lean manufacturing dictates kaizen, or continuous improvement, since the production rate is never going to reach perfection.
History
Takt is a german word that refers to a precise interval of time such as a musical metronome (meter) or "pulse."  Takt time was widely used as a production management tool in germany in the early 20th century to measure the speed at which products were being produced.
In mid-twentieth century, Toyota adopted takt time within its production system, which in the 1990's transitioned into the modern methodology of lean manufacturing.
Takt Time Examples
If a customer orders on average four truckloads of fertilizer per day, and the fertilizer plant operates from 8:00 to 5:00 with a 1 hour break (8 hours/day), the plant must produce a truckload every 2 hours.  The takt time is 2 truckloads per hour.
A manufacturer of auto parts receives orders for spark plugs averaging 480 per day.  The plant operates at 24 hrs/day, therefore the takt time is 0.05 hours/spark plug, or 3 minutes.  Hence, the plant must produce a spark plug every 3 minutes.  As per lean manufacturing methodology, it is determined that there will be 10 assembly lines, each containing 5 stations and producing with a cycle time of 30 minutes through each station (30 minutes / 10 assembly lines = 3 minutes).  A finished spark plug will go from raw material to finished product in 5 stations x 30 minutes/station = 150 minutes, thereby allowing the plant to build custom orders to ship within one business day.  In contrast, a non-lean plant would require weeks or months.
A construction contractor must build 1,000 metres of concrete forms for a building foundation within 20 days.  The takt time is 20 / 1,000 = 0.02 days, or 9.6 minutes.  They must produce a metre of concrete form every 9.6 minutes.  They determine that this will require 4 workers in the shop to accomplish.
An engineering firm has been engaged to produce a report that will take 1,440 man-hours to complete.  The report is due in 6 weeks (240 hrs).  Therefore, the takt time is 10 minutes (240 hrs / 1,440 hrs).  That is, they will need to produce one man-hour of work every 10 minutes to complete the project.  Therefore, they will need to budget for 6 full time people to accomplish this rate of production (60/10 = 6).