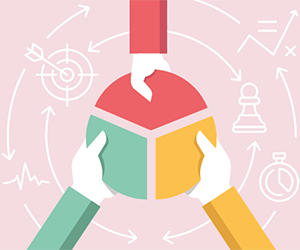 All projects have stakeholders.  As a minimum, the project sponsor who initiated the project expects some type of deliverable.  In addition, customers and end users are anxiously awaiting the completion of the product, and the project team is eager to use their skills to produce it.
Hence, project success is largely defined by the stakeholders.
The goal of project stakeholder management is to achieve alignment of the project stakeholders with the project's goals, or to maintain the stakeholder's support when it exists already.
Stakeholder management contains four main subtopics:
Stakeholder Identification
Stakeholder Analysis
Stakeholder Management
Stakeholder Control
Stakeholder Identification
A stakeholder is anyone who is impacted by, or interested in, a project.  This can range from major stakeholders that have a vested interest in it, down to people that wish to stay informed.  They can be supportive of the project, or opposed.  Each one has unique needs and requirements, and must be dealt with in their own unique way.  That's why the first step is to identify all the stakeholders.
It is surprisingly easy to ignore a small stakeholder that ends up having a disproportionately large say in the project when they feel they are not being adequately consulted.  I've seen this story play out time and time again, even by the same organizations that initiate similar projects over and over again.  Hence, stakeholder identification is a non-trivial, foundational first step to strong stakeholder management.
The major output of this process is the stakeholder register, which is a listing of project stakeholders, along with some basic classification information such as internal/external, supporting/opposed, and so forth.
Stakeholder Analysis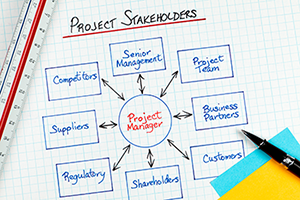 Following the identification of the stakeholders, a stakeholder analysis determines what their stake is, how they can impact the project, and how the stakeholder needs to be managed.
There are two characteristics of each stakeholder that represent the core variables of the project manager's concern with the stakeholder.  These are:
Power
The stakeholder's ability to stop and/or change the project.  For example, a government regulatory approval agency would have extraordinary power if they withheld project approvals.  An activist protester might not have as much power.
Interest
The stakeholder's level of interest in the project, that is, the amount of overlap between the stakeholder's and the project's spheres of interest.  For example, a subcontractor has a very high level of interest, whereas an interested member of the public might have a low level of interest.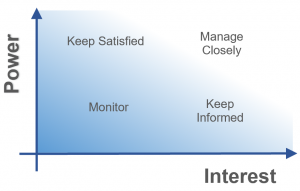 To characterize the stakeholder, a Power-interest matrix is produced, and each stakeholder is mapped on it.
Stakeholders with both high power and high interest must be actively managed.  They are intimately involved in the project.
Stakeholders with high power but low interest must be kept satisfied.  The can derail a project very easily over minor things.
Stakeholders with low power but high interest must be kept informed.  If not, they could attempt to increase their power or influence others to drop support for the project.
Stakeholders with both low power and low interest should be monitored to ensure they do not adversely affect the project.
In terms of support for the project, stakeholders fall into one of five categories:
Unaware.  They do not know about the project or its potential impacts on them.
Resistant.  They are aware of the project and its potential impacts on them, but not in support of it.
Neutral.  They are aware of the project, but have no opinion on it.
Supportive.  They want the project to succeed.
Leading.  They are actively engaged in the project's success, and willing to lend assistance to the project management team.
A stakeholder engagement assessment matrix can be used to summarize where each stakeholder is right now, versus where the project management team would like them to be.  Each stakeholder is assigned a classification for their current status – "C" and their desired status – "D."

This matrix summarizes the work the project management team needs to accomplish.  For example, stakeholder 1 needs to go from being unaware of the project to being supportive.  Stakeholder 2 needs to go from being neutral to being supportive, and stakeholder 3 is already where they need to be.
It is common for stakeholders to require movement from the resistant category into the neutral or supportive category.  Others can stay in the resistant category if the project doesn't need their explicit support to continue.  Whatever the case, this matrix guides the development of the stakeholder engagement plan.
The stakeholder engagement plan formally documents the steps that will be taken to obtain (or keep) the stakeholder's support for the project.  This plan documents the communication requirements for each stakeholder, the types and frequencies of communication, and establishes a baseline for project control.
Stakeholders can be motivated by any number of factors, or a combination thereof:
Financial interests
Moral and ethical values
Religious beliefs
Political opinions
Business interests
Demographics
Environmental stewardship
Value of ownership
Communication preferences
Each of these factors must be analyzed to gain a full and deep understanding of the stakeholder, to guide the negotiations during the project execution phase.
Stakeholder Management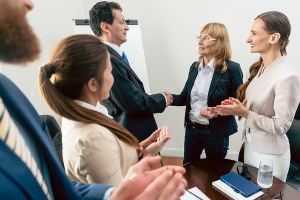 Throughout the project's execution phase, the stakeholder engagement plan is put into action and updated based on the needs and requirements of each stakeholder.
It is rare that a stakeholder's requirements stay the same throughout a project.  After communication events occur, each stakeholder needs to be re-analyzed to ensure their power and interests have remained the same, and if not, to take appropriate action.
Managing stakeholders involves four primary actions:
Engaging stakeholders according to the stakeholder engagement plan.  This engagement results in a response from the stakeholder, which is used to affirm / deny their support for the project.
Managing stakeholder expectations through negotiation and ongoing communications.
Addressing risks or concerns that the stakeholder has raised, and anticipating future project issues based on the information obtained from the stakeholder.
Resolving issues that have been raised by the stakeholder, including the introduction of project scope changes.
Interpersonal skills are paramount to the successful management of stakeholder engagement.  This includes:
Leadership
Active listening
Cultural awareness
Networking
Political awareness
Stakeholder Control
It is human nature to avoid conflict.  Unfortunately in projects the conflict most often occurs on the interface of stakeholder communication, and the tendency can be to hide small indicators of stakeholder unhappiness when precisely the opposite response is necessary to prevent the project from experiencing undesirable changes, or worse, a complete shutdown.
Hence, on the project control side it is important to consistently monitor communication with stakeholders to ensure that project issues are corrected, and future issues identified as early as possible.
During project control activities, that is, when project schedule and budget are being monitored, stakeholder communications should be reviewed to ensure that all is proceeding according to plan.  Any small indicators of potential future problems should be given the appropriate attention, and the stakeholder engagement plan should be updated as necessary.
The Project Management Office
Project management offices (PMO) can be centralized repositories of project management talent, information, and data.  Their level of authority varies quite considerably, from a purely advisory role to an active project management authority.
PMO's focus on internal stakeholders.  It is generally inappropriate for a PMO to deal with external stakeholders as that is best left to the individual project.  However, there are situations where a subcontractor is involved with multiple projects and can liaise with the project management office.
Project Stakeholder Conflicts
When these steps are undertaken, it lessens the probability that project issues will arise.  But alas, we all know that sometimes they do, even in spite of our strongest efforts.  Hence, when project issues arise the following process must be undertaken which is remarkably similar to the main project stakeholder management processes:
All parties affected by the crisis are identified, in other words, we start with the step again, stakeholder identification.  This includes upwards, sidewards, outwards, and downwards.  Upwards is the project sponsor, executives from the parent organization, and investors.  Sidewards are other project managers or projects who are in competition with the project's resources.  Outwards are stakeholders like government regulators, adjacent landowners, and others who have a stake in the project.  And downwards are the people who produce the project's deliverables – the project team, subcontractors and suppliers.
Additional stakeholders might be required during times of crisis, for example executive management, financial backers, and lawyers.  Also, the Federal Emergency Management Agency (FEMA), Environmental Protection Agency (EPA), or (hope not) FBI or local law enforcement become additional stakeholders.
Each stakeholder is analyzed to determine their power and interest.  In times of crisis each stakeholder's power must be defined to ensure that nobody is exercising undue influence.  On the interest side, each stakeholders interest analyzed to determine what their needs and wants are.