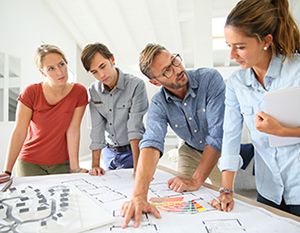 There is much confusion over what roles a project management office (PMO) plays, and indeed the term is quite broad.  But PMO's have undergone significant development in recent years and their roles have become more standardized.
So whether you're considering establishing a new PMO or wondering what roles your existing PMO should play, use this comprehensive list to figure out what responsibilities a PMO could have:
Provide Expert Advice
Project Support
Project Management Standards and Methodology
Training
Maintain Lessons Learned
Support Project Management Tools and Software
Project Control
Inter-project Communication
Manage Shared Resources
Promote Project Management
Provide Expert Advice
Most projects are run by people who have moved up from the related technical fields.  Therefore, providing technical advice on project management fundamentals is a major function of a PMO.  This advice includes:
If you are blessed to be working on a megaproject led by a professional project manager (or project management team), the PMO can still be utilized to provide organization-wide communication of lessons learned, project risks, standards development, and so forth.
Project Support
The Project Management Office provides support to project managers to ensure project success.  This includes advice in project decisions like
In the PRINCE2 methodology a project support function must be assigned, which reports to the project manager.  For larger organizations this takes the form of a Project Support Office (PSO).  Although this category overlaps somewhat with the Expert Advice category (above) I have included it separately because of its explicit definition within the PRINCE2 methodology.
Project Management Standards & Methodology
There are two main project management methodologies in use today:
The Project Management Body of Knowledge (PMBOK)
PRINCE2
Both methodologies have an "agile" subcomponent which is ideal for projects that don't have a well defined end product, like IT projects or research and development projects.  If the project is likely to experience significant change from its original plan, the agile methodology should be used.
Both methodologies have a myriad of documents which are used to define, analyze, and track various project management functions.  These documents should be kept as templates within the PMO to ensure organization-wide consistency.
Some organizations have their own project management procedures, which follow a hybrid approach or introduce new procedures that work for them.
The PMO can either be given the authority to enforce the standards or merely provides advice to project managers.  Whatever the mandate, it maintains organization-wide standards to ensure consistently high project performance.
Training
The PMO is ideally suited to provide training to project managers and project team members.  Since most projects are not run by professional project managers (trained in project management itself) it is important to utilize the PMO to pass on the training and knowledge it has developed.
Certification programs like the Project Management Professional (PMP) or PRINCE2 can be helpful, but the PMO's knowledge base is specific to the organization's experience and that knowledge should be passed on.
Maintain Lessons Learned
It's amazing how many organizations make the same mistakes twice.
Most organizations have similar projects in different departments, different offices, and so forth, and communication of lessons learned is so bad that major project issues recur over and over again throughout the organization.
Individual projects and project managers are generally concerned more with delivering a successful project to their own stakeholders rather than with understanding the organization's prior experiences.  Hence, the PMO should be a place where prior experience is conglomerated and analyzed to ensure the organization doesn't make the same mistakes twice.
Support Project Management Tools & Software
Every profession nowadays has software that makes the job easier and which usually requires training to use most effectively, and project management is no different.  Most industries have project management software integrated with the industry, such as Primavera P6 for the construction industry.  Alternatively, there are many web based project management solutions available, and Microsoft Project is also a popular alternative.
This software involves dividing a project into phases and tasks, assigning a schedule, budget, and resources to each task, and tracking task progress throughout the project.
The PMO can provide support for the tools and software used by the project management teams throughout the organization.
Project Control
Project Control refers to processes that ensure projects remain on time and schedule.  But it is not limited to time and schedule.  Although these are the most important two variables for most projects, most projects have secondary stakeholders that need to be satisfied, organizational policies that need to be followed, or other requirements that can benefit from strong project control.
The PMBOK identifies earned value management as the preferred method of project control.  PRINCE2 does not identify a method, but the earned value method is used extensively throughout the project management industry.
The PMO can either have the authority to enforce project control, or provide expert advice to individual project managers.  If it enforces project control, it will need to be equipped to collect project data from the project team, such as percent complete for each task.  It performs the earned value calculations within the PMO and reports the applicable ahead/behind budget/schedule data to the project manager who can act on it.
Inter-Project Communication
Most organizations have multiple, similar projects.  These projects could benefit from communications such as lessons learned, project risks, and other project experiences resulting from open communication between project management teams.
Even if there is one, large project, the PMO can obtain experiential information from other organizations through project management conferences, trade shows, and the like.
Manage Shared Resources
Oftentimes an organization has people, software, tools, equipment, and other resources available that must be shared across projects.  These resources can be planned into the project or realized as a project opportunity during the project.
The PMO manages the resources and ensures they are available and specifications are met for each project.
Promote Strong Project Management
The PMO can be utilized to promote project management within the organization to create a culture which results in successful projects.
Often the promotion of strong project management and the support of the PMO from corporate head office signifies that the organization values good project management.  Absent of any other concrete project management processes, this can result in project success in its own right.