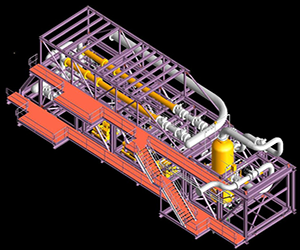 Engineering projects come in many shapes and sizes, but they can generally be broken down into the following phases.
Planning / Preliminary Engineering.

This is the stage at which the options are considered and the pros and cons evaluated. Most engineering projects involve the creation of a new product or the destruction and re-build of an existing one, and the project is defined on that basis. The options for the new product can be evaluated based on cost, quality, satisfaction in meeting the engineering criteria, etc. Usually some sort of criteria are established at the beginning of the project that can be used to guide project decision making.

Detailed Design.

Once the exact product is chosen, detailed design can begin. The end result is usually a set of drawings and/or a tender package. At this stage all of the issues are investigated and a complete engineering analysis is performed.

Tendering.

During this phase the project is put out to tender. This phase includes advertising, answering of bidder questions, holding pre-tender meetings, and opening of the tenders.

Construction / Implementation.

This phase involves the physical implementation of the work that the engineer has designed. The engineer's representative is usually on site because of the engineer's responsibility to ensure adequate construction of the work, particularly for items that become concealed like concrete reinforcement. Also, since the engineer is more concerned with the suitability of the final product from an engineering standpoint, there are usually constructability issues that require addressing.

Post-Construction.

Once the product is complete, the final documentation phase is required to ensure that stakeholders have the documentation they need and project funding and administration issues are finalized.