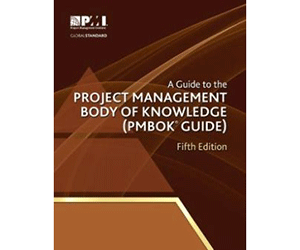 Poor project cost management is one of the easiest ways to make a project go awry.  Hence, good project management requires a firm grasp on the concepts and techniques in project budgeting and cost control.  Thankfully, the Project Management Body of Knowledge (PMBOK) gives us a strong foundation in this area.
Project Cost Management is the fourth of 10 project management knowledge areas within the PMBOK.  It contains 4 processes.  Three of these occur in the planning process group as they involve the determination of the project budgets.  The last one occurs in the Monitoring and Controlling process group as it involves controlling project budgets during project execution.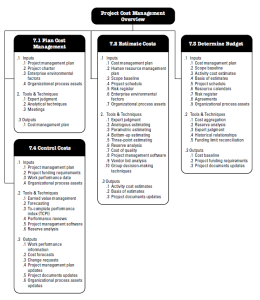 Plan Cost Management
The first of the processes within the knowledge area is called Plan Cost Management.  It involves the production of a cost management plan, which is a component of the overall project management plan.  This document describes how the project costs will be planned, structured, and controlled.
It can feature elements such as the level of accuracy and precision, control thresholds, and rules of performance measurement for earned value management.
Inputs
Project Management Plan
Project Chaarter
Enterprise environmental factors
Organizational process assets
Tools and Techniques
Expert judgment
Analytical techniques
Meetings
Outputs
Estimate Costs
This process represents the tasks involved in determining the monetary resources needed to complete the project activities.  Most of the time it involves bottom up estimating, that is, determining the monetary resources for each project task and rolling it up into an overall project estimate.  However, a top down approach is usually quicker and less accurate but can be appropriate for the circumstances.  Each task is estimated using techniques such as  analogous, parametric, and three-point estimating.
Inputs
Cost management plan
Human resource management plan
Scope baseline
Project schedule
Risk register
Enterprise environmental factors
Organizational process assets
Tools and Techniques
Expert judgment
Analogous estimating
Parametric estimating
Bottom-up estimating
Three-point estimating
Reserve analysis
Cost of quality
Project management software
Vendor bid analysis
Group decision-making techniques
Outputs
Activity cost estimates
Basis of estimates
Project documents updates
Determine Budget
This process refers to the aggregation of individual project task budgets into an overall project budget.  It refers to the production of a time-phased project cost baseline which can provide a graduated ceiling for project funding limits throughout the project.  Management reserves (overall project contingencies) are also allocated.
For small projects, the Estimate Costs and Determine Budget processes can be viewed as one single process, because a time phased cost baseline is often not necessary.
Inputs
Cost management plan
Scope baseline
Activity cost estimates
Basis of estimates
Project schedule
Resource calendars
Risk register
Agreements
Organization process assets
Tools and Techniques
Cost aggregation
Reserve analysis
Expert judgment
Historical relationships
Funding limit reconciliation
Outputs
Cost baseline
Project funding requirements
Project documents updates
Control Costs
Although it's only one single process (out of 4 within the knowledge area and 47 within the PMBOK), it's arguably the most important one.  Keeping project costs under control requires the application of earned value management.  At any point in time (usually right now) the project manager collects three pieces of information for each task within the project:
Planned value. The value of the work planned to be completed.
Earned value. The actual value of all the work completed (earned).
Actual cost. The actual cost of all the work completed.
Four values are then calculated which indicate the current status of the project, two from a budget perspective (CV and CPI) and two from a schedule perspective (SV and SPI).
Four more values are calculated which extrapolate the current project status to the end of the project (ETC, EAC, VAC, ad TCPI).
These values can be compiled into a project status report and distributed to stakeholders.
Inputs
Project management plan
Project funding requirements
Work performance data
Organization process assets
Tools and Techniques
Earned value management
Forecasting
To-complete performance index (TCPI)
Performance reviews
Project management software
Reserve analysis
Outputs
Work performance information
Cost forecasts
Change requests
Project management plan updates
Project documents updates
Organizational process assets updates