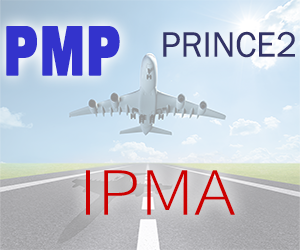 Project management certification is a great way to make your career take off.
Promotions, salary increases, and prestige are just some of the rewards waiting at the end of the journey, but not all certifications are equivalent. Hence, it's important to have a flight plan prior to spending many hours obtaining a certification you might regret. A pilot that's flying the wrong airplane might not be able to get where they want to go.
There are 3 main project management certification organizations in the world today. They are:
Project Management Institute (PMI)
Axelos (managing the PRINCE2 system)
International Project Management Association (IPMA). The IPMA manages the knowledge base and member associations in each country manage the certification process. Hence, you might not be dealing with the IPMA directly.
The certifications which are issued by these organizations are:
Category
PMI
PRINCE2
IPMA
Program Management
PgMP
MSP Practitioner
Level A
Project Management
PMP
PRINCE2 Practitioner
Level B
Level C
Associate
CAPM
PRINCE2 Foundation
Level D
Summary
Allow me to present an overall summary before I circumnavigate into an analysis of the individual differences.
PMI and PRINCE2 each have a main project manager certification (PMP and PRINCE2 Practitioner) and an "associate level" certification (CAPM and PRINCE2 Foundation).
IPMA distinguishes between complex projects (level B) where project management methodologies are used extensively and small projects (level C) where customer relationships tend to be more important than rigorous application of project management theory. Another way to look at it is that level B is a "professional project manager" as opposed to Level C which is for technical people who manage projects. Level D is the associate level certification.
The top row represents program management, rather than project management, certification. A program is a series of interrelated projects, hence it is technically "above" the project level. A large urban renewal project, for example, might include a new interchange, a new housing development, and new storm sewer – each of these are their own project. I have included the program management certifications here for completeness and because they are issued by the project management organizations.
It is important to note that PRINCE2 is a specific project management method designed to achieve project success (meet project deadlines, achieve stakeholder satisfaction, etc.), not to apply general project management knowledge or theory. Thus, a PRINCE2 certification means you are knowledgeable in the PRINCE2 method, not in all aspects of project management. Concepts such as the critical path method, earned value management, and project scheduling are not tested on the PRINCE2 exams.
There are also Agile certifications from PMI and PRINCE2. Agile is a relatively new, specialty style of project management which is suited to R&D projects, software projects, and projects where the end goal is not well defined. Although Agile is the best way to manage these types of projects, it is not appropriate for all projects therefore I will not include it here. It is the PMI's fastest growing certification, but like the other specialty certifications, you should obtain the general project management certification first.
Popularity
The PMI and PRINCE2 certifications are the big two, and IPMA is significantly smaller.
As of March 2018, there are about 830,000 PMP certifications worldwide, growing at a rate of about 14% per year. Although the number of PRINCE2 Practitioner certifications are not published, Axelos claims that PRINCE2 is the world's most widely-adopted project management method. However, PRINCE2 is significantly easier to obtain, and this could result in higher numbers as well as a loss of reputation in some areas. As of 2014, IPMA reports that there are about 65,000 certifications in levels B and C combined.
By Geography
PMI is based in the United States and it is the only truly global one. PMI certifications are recognizable anywhere, and there is no regional disadvantage that I am aware of.
PRINCE2 was originally developed by the UK government, and continues to be administered by Axelos, a company partially owned by the UK government. It is still a mandatory requirement for some UK government work. Hence, PRINCE2 is heavily concentrated in the UK. A 2016 study by Axelos found that 44% of PRINCE2 certification holders are based in the UK, but it was experiencing double digit growth in most of the world, including the Americas. This is to be expected from Axelos' global ambitions for the PRINCE2 brand, however in North and South America, PMI is king. I believe a large part of the North American PRINCE2 certifications are PMI certification holders who are expanding their knowledge (or obtaining professional development credits) because PRINCE2 is so easy to obtain.
IPMA is based in Switzerland, and acts as standards body. The certifications are administered by "member associations" in each country. IPMA certification is prominent in continental Europe, and anyone based there should consider IPMA on par with PMI and PRINCE2.
By Industry
I am not aware of any industry specific concentration of project management certifications, with the exception of UK government work (as described above) for which PRINCE2 is quite advantageous, if not explicitly specified, to perform the work.
Reputation
The reputation of any certification program provides the propulsion into career success.
To that end, PMI and PRINCE2 are once again the leaders on this front except in continental Europe where IPMA is equally strong, however there is an important distinction to make here. The PMI certification requires significantly more time investment to obtain, as well as several years of project management experience (for the PMP). Hence, the PMI certifications represent a "safer" certification that employers and clients can trust.
In contrast, PRINCE2 is very easy to obtain. It requires nothing more than studying the official manual and writing the exam. You can study the manual on your own and write the exam online, with no further questions about experience and/or ability.
PRINCE2 enjoys a strong reputation which will advance your career and should not be understated. However, PMI is the credential that has a stronger background and project management knowledge base, and could provide a stronger credential over time.
Courses
The PMP requires 35 hours of project management courses prior to writing the exam. At the associate level, the CAPM requires only 23 hours of courses.
None of the PRINCE2 certifications require any courses. You can order the manual, study it, and register to write the exam only directly from the official exam provider, PeopleCert. This ease of requirements is one of the main advantages of PRINCE2.
IPMA levels B and C don't require any courses but a self-assessment against the Individual Competence Baseline is required, as well as a 6-8 page project report (for level B) and questionnaire (for level C). At the associate level, level D does not require any courses, only the self assessment.
Although neither PRINCE2 nor IPMA requires any courses, most people do elect to take some, and I can attest that a training course would provide a great help in passing the exam.
Education Requirements
As with the other criteria, PRINCE2 does not require any background education requirements.
The PMI and IPMA certifications require background education requirements, with the exception of the associate level (CAPM and Level D).
Experience Requirements
Once again, PRINCE2 does not require any background project management experience.
The PMI and IPMA certifications require background experience, with the exception of the associate level (CAPM and Level D) certifications.
Manual
Each of the three certification bodies publishes a manual from which the certification exams are based:
PMI uses the Project Management Body of Knowledge (PMBOK), published by PMI and available directly from PMI, Amazon, and many book retailers.
PRINCE2 uses the manual Managing Successful Projects with PRINCE2, published by Axelos and available at the Axelos website.
IPMA certifications use the Individual Competence Baseline, published by the IPMA and available on their website. However, member associations in each country are at liberty to make slight adjustments to the certification material. For example, in Canada the ICB has been revised and renamed the Canadian Project Management National Competence Baseline.
Cost
Of course, none of this is free. The following prices are in US Dollars and apply for an American applicant, but other countries should be similar. In the case of IPMA, there are significant differences from country to country and these should be taken as a general guide only.
For PMP certification the cost is:
The fee to write the PMP exam is US$555.
The 35 hours of courses can be taken anywhere, but typical rates for online PMP preparation courses are about US$350 – US$500.
The PMBOK can be purchased at Amazon for about US$60.
For CAPM the cost goes down to US$300, and only 23 hours of project management training is required instead of 35.
For PRINCE2, the cost is:
For IPMA certification, the cost in the United States (with IPMA-USA), is as follows (this will vary from country to country):
Level B: The application fee is US$1,995, which includes the exam, evaluation of the report and on site assessment.
Level C: The application fee is US$1,695, which includes the exam, evaluation of short answer questionnaire and on site assessment.
Level D: The application fee is US$595, which includes the exam.
Most people take a course on the Individual Competence Baseline, which will be over and above these fees.
The ICB is available for free electronically, or in hard copy for about US$40 at the IPMA website.
In the case of PMI and IPMA-USA, membership in the association is cheaper than the amount that you will save during the certification process. That is, you will come out ahead by paying for a membership which gives you a discount on the exam fees that is greater than the membership fee.
Maintenance
For PMP, the certification lasts for 3 years and the maintenance requirements are quite extensive. They include 60 PDU's (Professional Development Units) over each 3 year period from certification. Courses must be a minimum of 25 of those PDU's and must be varied across three categories: Leadership, Technical, and Strategic. As you would expect from this prestigious certification, the maintenance requirements must be kept top of mind throughout the certification period, but ensure that it will never lose its value.
For CAPM, you must simply retake the exam every 5 years.
The PRINCE2 Practitioner certification lasts for 3 years. You can always elect to sit the exam again after the three year period to ensure it doesn't expire. However, you can avoid the exam by registering for a subscription to Axelos and recording 20 CPD (Continual Professional Development) points.
The PRINCE2 Foundation certification does not expire.
The IPMA requires 3,500 hours per year of direct project management experience at the applicable level of project management (levels A – D). Thus, you need to be continually active in project management.
Hopefully this overview will help thrust your career to 40,000 feet in supersonic style, and give you a smooth landing into a project management career.
Good luck in your maiden flight, and let me know in the comments if you have anything to add.