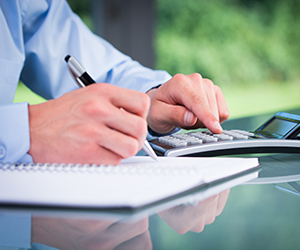 Bottom up estimating is the project management technique of estimating individual tasks and then combining them into an overall project estimate.
Often the individual project team members who will be performing the task provide the estimates, because they are in a better position to estimate a task that they will be working on.
Types of Estimates
Any of the three main types of estimates can be used together with bottom up estimating.
Bottom up estimating is used in conjunction with each or any of these.  The three estimate types are used on individual tasks, which are then "rolled up" into the overall project.
Phases
Many projects group related tasks into phases.  The phases represent groups of tasks, and the overall project is a group of phases.  This is called a Work Breakdown Structure (WBS).
Each task, phase, and the overall project each have an estimate.  They are each "rolled up" into the higher level and represent the sum of the lower level.  This is the key to bottom up estimating.
Accuracy
The accuracy of a bottom up estimate is the average of the lower level components of the estimate.  For example, if task #1 has an accuracy of 10% and task #2 has an accuracy of 20%, the overall estimate will have an accuracy of 15%.
Tracking
The bottom up estimate can be tracked on any level.  The most detail, as well as complexity, will exist at the lowest level.  On the other end of the spectrum, only the entire project cost could be tracked.  This is the the least work but sacrifices the ability to find and fix problems.
Example
Let's say you are building a fence.  The project has two tasks:
The local hardware store suggests a fencepost cost of roughly $75/post.  Since there are 10 posts, that equates to $750.  This is called a parametric estimate.
Next, your colleague, who built a fence last month tells you that their fence cost about $5,000 (excluding the fenceposts) for a fence that was 100 feet long.  Thus, since your fence is half as long, it would cost roughly $2,500.  This is an analogous estimate.
For the entire project, we add the two together.  This is called bottom up estimating and results in the overall project cost.